Local Search Engine Optimisation (SEO) is an amazingly effective form of marketing to local business, promoting your services to local customers at exactly the time they are looking services related to your businesses.
In the world we live in today, millions of users use these platforms every day to look for solutions which can solve their problems, and a lot of them want to look for local businesses in their proximity that can provide these solutions. Every business with a viable website will try to be the first to greet these searchers.
Local SEO uses a range of tactics to get to these local searchers. It includes search engines like Google and business directories like Yelp, Superpages, Yelu and even review sites like HungryGoWhere.
What is Local SEO?
Local SEO is an effective way of targeting customers in your country to engage your business. It is becoming an essential part of any digital marketing campaign to ensure businesses stay visible online.
Local SEO is favoured by Google, as seen in the rise in local search results when we search for information related to a geo-location. To illustrate this example, we look at the bottom screenshot we have of 'Interior Design Singapore'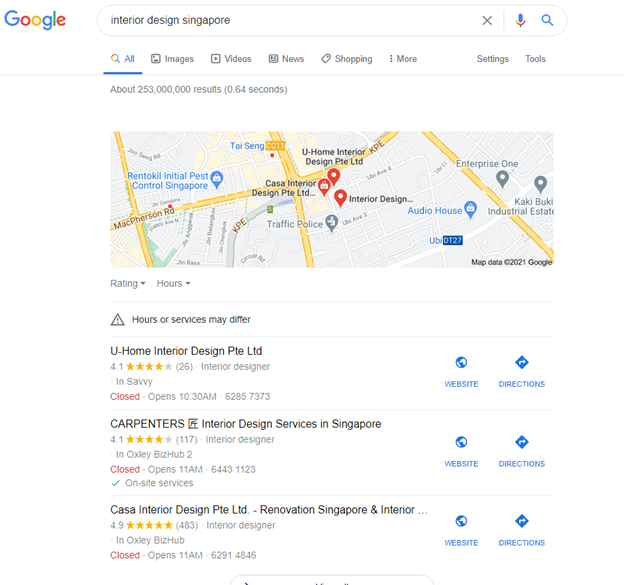 Those are the results from the local SEO, followed by the Google ads, and then the Google Questions and SERP results.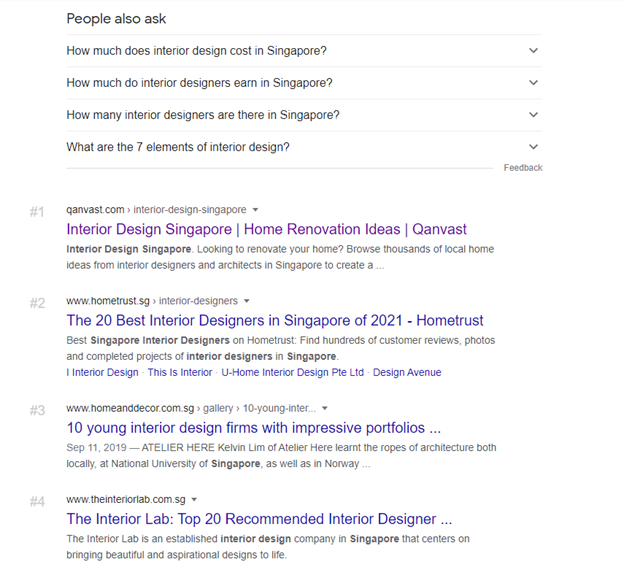 The boxed area is commonly that appears at the top of the results page is commonly referred to as 'Google Snack Pack'. It only appears when an online search is made with a geo-location mentioned to it.
In other words, town or country names, or even phrases like 'near me', 'near my workplace' could trigger the Google Snack Pack to appear. Snack Pack displays the top three most relevant business listing to the user's enquiry.
According to one study, 33% of clicks go to the local "snack pack" results, with 40% going to the regular organic results.
From the statistics, it is obvious that both snack pack and organic results are very valuable positions to be in, which is why it pays to rank for in both segments. This is where the value of Local SEO comes in.
What is the Difference Between SEO and Local SEO?
Local SEO is a form of highly targeted marketing, reaching out to potential customers who are already looking for someone to solve their problems or fulfil their desire. It positions your business to these visiting, potential customers and offer your services to them.
Although it has a lot of similarities with organic SEO, it is ultimately very different. Local SEO primarily focuses on providing results that are relevant to a searcher based on their current location — if I look for the best chicken rice in Singapore, Google will provide me with results that are nearest to me.
Local ranking factors like name, address, and phone number (NAP) and customer reviews to rise to the top of organic results.
With another example, this time, the picture above is a result of typing "Digital Marketing Agency Singapore".
Google tends to rank websites differently for local SEO results than traditional SEO results. To rank well for the local SEO results, (which in this case is Janyrk Digital, Leading Solution and Ooja respectively) we will usually rely more on other metrics such as local NAP citations, local reviews, location and My Business signals.
With a strong result on local SEO, you can beat competitors who are ranking well organically but may be lacking in their local SEO foundations. Additionally, since geolocation is a factor, companies in certain areas can still stand to gain a comparative advantage.
Since Google places local listings above the fold, your effectively "ranks" higher than the organic ones. This can be an extremely, valuable tool for your business, being capable of getting listed above larger competitors with more resources.
Local SEO is about optimising your digital presence specifically to target local searchers within your proximity, with the intent to search for local businesses or solutions. With local SEO, you will be getting traffic from both organic SEO as well as from different web sources.
How and Why Local SEO Will Benefit You Business in Singapore?
Local search marketing is highly targeted. As customers are usually online looking for solution providers and answers, having a targeted local SEO allows you to capture these interested clients.

Using local search engines & online directories, you can reach out to these potential hot leads at exactly the point that they are looking for your business. Chances of getting enquiries and sales will increase as a result.


Local SEO has a higher click-through rate as compared to local directories and organic search rankings. The F&B industry is one of the industries that stand to win the most from local SEO. The local directory can get restaurants and eateries more businesses as opposed to generic online directions. This is because local SEO accounts for the proximity of these stores before suggesting three to the searcher based on a combination of factors.

Usually, when it comes to food, search users want an immediate solution and a near location. Due to the increase in mobile users, proximity-based searches have become very popular, as seen by the remarkable advancement in hyper-specific locations in Google Maps in recent years.

Most consumers trust online business reviews. Reviews can either convince a customer to avoid a business or give the store/shop a chance. When it comes to local SEO, reviews play a larger role as reviews can be easily accessed and read by search engine users. Research shows that 63 per cent of consumers will check Google for reviews before they even visit a business.

Focusing more on local SEO allows small businesses to reach out to their customers easier. While the global competition for particular keywords may be tough and costly, local SEO plays by a different competitive game. The use of location as a defining factor means that smaller businesses can still gain a comparative advantage over its competitors.

Google has also been improving its local search algorithm ever since the introduction of the "Pigeon" Update.

An increasing number of people are using mobile devices to find what they are looking for. As a matter of fact, over 60% of Google searches are now conducted on mobile devices. Local SEO captures not just mobile organic searches, but also virtual assistant searches. This can come in the form of smartphone systems such as Siri, Google, Bixby and Alex. These smart digital secretaries can provide you with information about local cafes, restaurants, and other similar types of businesses.

Imagine a tourist in Singapore asking his virtual assistant about the nearest places where he could rest and eat. Or image a local asking his smartphone where the nearest place is, he can have a drink with his friends after dinner.


Most of the SEO opportunities are practically free. With Google and many other sites and apps out there providing free SEO-friendly opportunities, it is a complete waste to not tap into these opportunities to give your business a bigger boost. Google provides free analytics tools and listing tools.

One example of which is Google My Business – a free listing that Google is providing every business. Getting listed on Google My Business helps increase your chances greatly on Google. Local SEO can provide just such an opportunity, which could be invaluable to your business, for free.
The following article from Search Engine Land is useful for you to create more in-depth strategies for review acquisition.
How To Use Local Listing For Your Business
Local listings help immensely to gain natural search rankings on your website. It is important to ensure that your local listing is not only consistent, also accurate, and in as many places as possible.
This not only ensures that your business lands in the top searches, but also that you are able to have a higher conversion rate. Having your potential clients walk out on you out of frustration when they call the wrong number or land on an error404 page is a nightmare.
What is a Local Listing and How Can It Help Your Business Grow?
A local listing is an online profile that contains your business name, address, and phone number (NAP) along with other details retaining to your business. There are many websites that contain directories where local business owners can create their own free business listings to expose their business.
Well-known websites such as Yelp, Google+, Foursquare, Yellowpages, Yahoo! are a few examples, although businesses stand to gain more by also targeting e-commerce sites such as Shopee, Lazada and Carousell.
This is because each new local listing you create heightens your chances of being found by customers, thus expanding your online presence and your target market. The more directories you are listed on, then the more visible you are. When your business is highly visible online, search engines will further trust the accuracy of your business data.
The four criteria of a local business listing as stated in one of our previous articles is as follows:
The business engaged with your customer must be physical, not virtual
A business name
A local physical street address
A local phone number
Expanding Your Online Reach with Local SEO Listing
To have that basic information about your business stored in that local listing is good for other websites, such as bloggers or reviewers who have experienced your services to either promote your business or direct customers to your listing/website.
As we live in a digital age, we have the ability to access information in a much more rapid fashion than before. A local listing is the first thing that should come up once people search for a certain local service that complies with your business.
This expands your online reach.
However, listing your business on hundreds of directories is extremely time-consuming. Using an automation tool such as Synup helps to manage your listings efficiently.
What To Include In Your Local Business Listing?
Business Name
You should always use your real-world business name.
As Google can read street-level signages, you should ensure that the way you format your name matches the sign on your business, marketing, website logo etc. Avoiding unnecessary keywords, modifiers, or geographic terms to your business name. Keeping it simple and consistent is usually the way to go.
Business Name
It's important to always list your real-world address.
PO boxes and untagged virtual offices are not regarded as real-world addresses and you shouldn't build your local business for them. An important thing to note when it comes to consistency is to put your street address on line one and any other suite/mailbox number on line two of the address section.
This way you can form good practice for your consistency in siting all of your other citations. This helps you eliminate any confusing and strange formatting in the future.
If your company is a service-area business, such as a plumber, electrician, tutor, anyone who serves customers at their location instead of your own, you will have to make this clear on Google's form whilst creating your listing.
Google will then hide your street address on your live listing, as SABs don't need to hide their addresses on any other major business platforms, only on Google. Since a Google My Business listing requires you to have a physical address, you could put in your office or home address.
Website URL
For Google, it is important that your listed website URL goes directly to a page owned by the business, rather than a third-party website, social profile, or anywhere else.
With regards to multi-location and multi-department businesses, it's common to direct the listings for the businesses to the homepage of the main website.
The listings for the branches, locations, departments can be listed within that website through the landing pages and internal links. This helps keep the entities tidy and separate. When you follow this model, it is important to be consistent and link all citations to the right place.
Phone Number
Even though Google has a preference for local area code phone numbers, they also support toll-free numbers. This is particularly important for businesses who appeal to an international userbase such as hotels. Since most guests are from out of town, having an easy to call toll free number is rather useful. It is important to keep the number accurate and consistent throughout your citations and listings.
Try not to use numbers that direct to a call centre. It is much better for the user and for the business when the numbers listed are able to be transferred directly to the business. Many citation forms will also allow the listing of alternative phone numbers, such as cellphone and landline.
Description
Here you have the opportunity to sell your business. It is an opportunity to highlight the most persuasive and impressive qualities of your business. This is to try and get people interested. Usually, you have a few hundred characters to make your convincing statements. Emphasise key details and attention grabbing information.
You can decide on whether to write a unique description for each of your listings/platforms or use a single description that will be published on all of your listings.
Highlighting awards, guarantees, user praise, proximity to major landmarks, important media coverage, or famous brands carried can be beneficial in that small window.
Some descriptions allow for the use of rich text (including hyperlinks). But it's important not to overuse them. Have your description be simple and natural, without too much being thrown in there. There is no need to emphasize keywords or try to oversell too much. Descriptions aren't believed to have much impact on local search rankings but can influence click-through rates.
Images
One way to boost click-through rates is through attractive images on your listing.
Uploading high-quality images is a good way to visually represent your company or your brand image. Be sure to follow guidelines and cite pictures to avoid them being taken down for non-compliance.
Google My Bussiness (GMB)
Google My Business (GMB) is a free and easy-to-use tool for businesses and organizations to manage their online presence across Google, including Search and Maps. By verifying and editing your business information, you can both help customers to find you and tell them the story of your business.
Google allows for business exposure on a colossal scale that outperforms any search engine with an average of 7.8 billion searches daily.
GMB's listing of your business directory and exact location are on a mobile-friendly map. Thus, adding more visibility to Android and iPhone users searching for local businesses within close proximity.
GMB also frequently shows up high in online searches. This boosts your websites SEO rankings, optimises traffic, and allows extra information to be posted in your local listing beyond the NAP.
This can include special business offers, videos, images, opening hours, payment methods etc. There is also the customer review section which can allow for higher exposure to your business.
GMB's Analytics function also allows you to track who is searching for you along with what other sites they clicked on. The following article by Search Engine Watch discusses tips and information on how to optimize your GMB listing.
The free and easy registration process for GMB is available here.
Local Business Categories
"Local business categories" are the terms that describe what type of business your company is. These are selected when creating local business listings.
For example, a restaurant may select the business category "fast food", "cafe and bistro" or "fine dining". It's similar to how businesses choose which section of Yellowpages they appear in. Your local business category tells search engines which types of searches you're relevant to.
It puts your listing in a group that is easy to categorize.
Whenever you create a new Google My Bussiness listing (or nearly any other local business listing), you'll be asked to categorize the business. Google usually allows you to choose up to 10 categories from the pre-set list. Categorising is imperative to your business as it determines your company's ability to rank in Google's local results packs.
Examples:
Wendy's is a fast-food restaurant that also sells desserts. Thus, it should choose the category "Fast Food Restaurant", adding "Hamburger restaurant" in the additional category, but not "Dessert Restaurant"
A Pizza Hut that offers takeaway and delivery but no indoor dining should use the category "Pizza Delivery" with the additional category of "Pizza Takeout". These are more specific categories than the much larger "Delivery / Take-out Restaurants"
A boutique hotel with no swimming pool should use the category "Boutique hotel" and should not include "Swimming pool" in the category
Categories are essential as they help customers find accurate, specific results for services that they are looking for. The business should not use too many categories as this would be over-categorising.
What they should do is stick to a few categories which are as specific as possible. Use categories as a representative of your overall business rather than keywords that describe it's attributed. Google usually includes the most general of categories. Such as, when selecting a specific category such as a Beach Resort, Google will include categories such as "Resort hotel", "Hotel" and "Beach". There is no need to be too repetitive when it comes to categorising.
If you have trouble finding a category for your business, then choose a more general one.
GoogleMaps
Though local listings are good for providing basic data on your business's NAP, it also gives you a chance to put your business on the map.
Customers who are searching for a bakery in the local area would often first go to Google and Google Maps in search for a place to buy a croissant and discover that your business is just a five-minute walk from their location. And thus, thanks to a simple local listing on Google maps, you effortlessly gained a new customer. Since Google Maps is a widely visited and highly trusted source of information, it's a great platform for your local listing.
Essentially, local listings are a good method of online promotion.
People interested in your business and its services are going to search phone numbers, addresses, operating hours, driving directions etc.
Getting your business on the first page of Google and thus Google Maps increases traffic to your website and store.
Factors that Affect Local SEO
Since local SEO is mainly a Google-related feature, many aspects to local SEO are heavily influenced by Google's online tools and resources.
In general, Google has three main local SEO ranking factors that every local business should take into consideration when optimising their online presence for local search: proximity, prominence and relevance.
However, there are other ways in which local businesses can try to optimise for local SEO.
Google My Business
Google My Business is Google's own directory. It is used by Google to establish the location and proximity of business and customers, using other apps such as Google Maps and Google Search to access this database.
Apart from retrieving relevant contact information, it also weighs the need and relevance of companies before pushing them as search results to online viewers.
While Google has never officially revealed its hand for local search ranking metrics, it has stated that using Google My Business will improve your local search ranking. Improving your Google My Business Information would also prove to be helpful for your online visibility.
There are a few tips on optimising your results using Google My Business:
Include a long, unique description about your business in Singapore. The more specific and the more information you give Google, the more helpful it will be for your business.
Choosing the correct categories for your business as it tells Google more about your business and help them rank you correctly.
Show as much relevant pictures about your business as possible.
Add a local Singapore phone number to your listing so local searchers can contact you.
Upload a high-resolution profile image and cover photo.
Add your business operating time and days.
According to Google, businesses with a verified Google My Business account information are twice as likely to be considered reputable by viewers.
Utilising Google's review system and Q&A function would also be helpful in creating an informative Google My Business profile for your company. Google My Business can also be used to share news and offers to allow you to reach your interested prospect in a less intrusive way.
Local Reviews
Having a good review about your company is always helpful in marketing — its even better with Google reviews. Focusing on gathering reviews can help tremendously for your online results and rankings.
Other ways to get reviews include getting reviews from other local directories. For a good list of local directories, check out this comprehensive list from HubSpot.
Getting Google reviews should be the main priority as it can yield the most results for local SEO. Your website will be able to gain organic visibility and SEO momentum at the same time.
Have your previous customers review your business listing on Google and incentivise future customers to do the same. A common tactic would be to offer discount or membership promotions in exchange for an honest review.
However, be sure to do this ethically, or Google might see it as a form of manipulation.
Business Name, Address and Phone Number (NAP)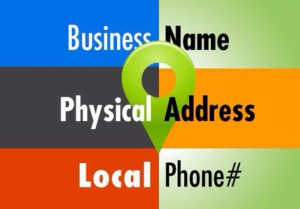 NAP tells more information about your business to both customers and the search engine. It is crucial that you use the exact same details/format when you mention your business information on other websites (i.e., local citations, directories).
Having different business NAP tells Google mixed information about your business, resulting in mixed results and ultimately reflects bad on your business. When it comes to business details, you want to ensure you build a consistent image.
Local citation
A citation can be described as an online reference to your business's name, address, and phone number (NAP). As mentioned above, local citations must be listed as accurately and appropriately as possible.
These citations tell Google more about your business, and they crawl through many of these sites and backlinks to "determine" your business profile. Having citations containing different information can be disastrous.
Make sure your name, business, and phone number (NAP) is consistent throughout the web, and all reflects the real information about your business.
If Google notices a small difference in citations between two different sources, your local authority could drop.
Local Content and Link Building
As it is the case with traditional SEO, local SEO would also require link building and content marketing for your website to gain traction.
With a cornerstone piece of content, you can then approach various channels and parties for backlink building and traffic building. Below are a few ways you may want to use to generate backlinks for your webpage:
Leveraging on local events and local information articles.
Get published on local news outlets with your latest press releases.
Line up interviews and columns within relevant online publications.
Share it with other bloggers and authority in the relevant industry to generate more traffic and readership.
Run regular competitive link research and capitalize on any new opportunities that your competitors have gained.
Getting online and offline coverage.
The rules of the game remain largely the same. Foundation for SEO require time to take effect, which is why it may be a good idea to start earlier.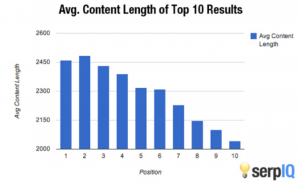 What Are the Benefits of Local SEO?
Keep Ahead of the Curve and Aware of the Trends
The way consumers are thinking and behaving is constantly changing. Following the latest trends is essential for reaching out to your customers in the best way possible. By going local, you are going to follow two important trends:
Customer behavior – During the past decade, consumers have significantly started relying on online research before and after going to the store. By going local, you can expect a higher number of customers, as they will run across your business in their results page. Tapping into this organic traffic will allow you to reach out to a significantly higher number of customers more easily.
Google wants you to go local – Google has its own interests. They want to provide their customers with helpful results. Therefore, they want to show their users all the possible results they might be interested in. This is why the search giant is taking steps to better optimize their results. So now, when you type in "show me restaurants in Singapore", you get a list of the top 10 places immediately, followed with plenty of valuable details. Imagine how many travelers are going to use this query? Why not be on that list? It's free marketing.
These trends are clear indicators that every new or small business should put higher focus on local search optimization.
Lower Competition
When you go global with your SEO optimization, you could be up against other established businesses that have been ranking well for years. While it is not impossible to surpass them in SERP ranking numbers, it takes an experience and strategy to navigate the digital landscape.
Even then, it will take time for results to show. However, if you choose to go local, the number of competitors declines. You will understand the local scene and context better, anticipating how local news can affect your customer base and purchasing habits. This makes getting on the top a much easier challenge, as long as you know which steps you should take.

Lower Cost
Going against giants who bid high figures on some keywords is quite pointless, especially if you are running a small business. However, making and optimising your content for local search purposes is a very budget-friendly option.
Practically, the only investment you are making is time and effort. Any financial investments should come in later when the company has better cash flow. Having a better foundation in local SEO also creates a safety net for future expansion and growth. Understanding your industry from a local context gives you an entry-point into the global market with lesser risk and more information.
More Organic Traffic
Optimizing your website for local searches directs more targeted traffic for relevant search terms. This can be done simply by building online business citations. Online business citations refer to your company's name, phyiscally adress and phone number, commonly referred to as NAP.
Having a consistent set of NAP on the internet allows newer website to gain more visbility online. It is a cost-effective and cheap way to allow new companies to get started and gain more online leads.
Citations are an important part for establishing your footing in local SEO. Moz Local Ranking Factors study finds that they're the fourth most important factor for local SEO ranking success.
Good Local SEO Practices
Creating Local Business Listings
Creation of local business listings is a very essential method of SEO strategy. Local business listings provide information about your business to your audience.
The more local business listings you create, the more platforms your target prospects can look for you. Thus, the greater the traffic you will get to your website. Remember, one important metric of SEO is number of visitors to your site. Now you can see that the greater the traffic to your site, the better your site's SEO will be.
The best part about local business listings is that they are easy to set up and they are free of charge! Creating local business listings is definitely not a method that you want to miss in your journey to obtain good SEO ranking.
By creating a local listing on a business directory, you are essentially creating a backlink to your website. And this improves your SEO ranking substantially.
Finally, your website has more opportunities to appear on the first page of search engines. Not only will your website be ranked, your individual business pages in the business directories will also be ranked in search engines.
When your visitors search you, they will see your business in almost every rank of search engine on the first page. Through this, you definitely can gain the confidence of your prospects in terms of branding and credibility.
NPA Information Consistency
Make sure that your business name, address, and phone number (NAP) are consistent across all websites. List your business in multiple online directories. Some of the main online directories include:
Once you have registered your business, make sure that all of your business information is exactly the same across all of these websites.
With accurate information across all websites, it is easier for Google to trust the information. Having the wrong information might cause your online prospects to be redirected aimlessly.
Regular Content Audit
Conduct content audits regularly, to see if all your webpages are optimised. While it may take time to run through all your blog articles with a fine-tooth comb, it could be worth your while as it is a necessary process for your website to rank better.
Focus on local content. Not only will it help with your incorporating local keywords, but it would also help you build your customer base as a community and help create word-of-mouth opportunities. Pay attention to local news and events in your industry and find a way to jump into the limelight by addressing relevant issues from your company's perspective.
Target Local Keywords
One of the basics of local SEO is local keywords. Research long-tail keywords and different variations of your local keywords. After which, it is important to optimise your website for local keywords too.
Ensure that your website's home page, services page, blog articles contain the local keywords you want to rank for in the:
Headings
Title tags
Meta description
Body
Footer
URL (if possible)
Optimise for Mobile Interface & Voice
Having a mobile-friendly site is essential for good SEO. 30% of all mobile searches are location related, meaning that consumers who find you on local searches are more likely to be on their devices than desktops.
You would want to avoid having any form of navigation issues on a smaller screen.
You should also optimise for voice searches, as mobile voice searches are believed to have a high local intent than written searches. Voice searches by Bixby and Siri are relatively new trends, and many businesses have yet to capture this opportunity, giving you a great chance to be ahead of your competitors.
Regular Link Building
Like with any general SEO strategy, having links leading to your site will also help your ranking. Contact people in your industry's vertical and horizontal. Start with the few which whom you have an existing partnership with, such as contractors, suppliers, neighbours and distrbutors.
Expand Out to Global SEO
Organic SERPS are a factor in local SEO. Traditional SEO affects your local SEO standings and forms the foundation of your digital presence. While it may not be your primary focus, traditional SEO should remain as part of the picture.
Proper linking and formatting, coupled with optimised speed and navigation, remains a staple for any website looking to improve their rankings on any platforms.
Ideas on Writing Local SEO Optimised Content
The target audience is an especially important factor in writing for local optimisation. You have to find ways to naturally include local-specific keywords into the content of your website or article, as well as generate topic ideas purely for your local audience.
This might seem a bit challenging, especially if you are not used to writing locally optimised content. However, once you tackle the task of writing local SEO content through different categories, you should have a good range of potential topics to explore.
Here are a few tips and writing prompt to get you started on writing local SEO optimised content:
Local Headlines
A headline is the first thing people read when visiting your web page. A good local headline helps drive the direction of your content and helps set your business apart from your competitors.
Phrase your titles in a way that mirrors the search queries of your customers. It would also be beneficial to mention a town or your country in your headlines.
For example, if you own a Chilli Crab restaurant in Singapore, you could write a blog entitled "Where can you find the Best Chilli Crab in Singapore?" and introduce your dishes and products.
If you are running a computer repair store, you could consider writing a breakdown on the commonly damaged parts of computers with a 'Where to Best Fix Your Computer Wear and Tear Issues in Singapore?' article.
Through this, you get to optimize for local keywords in an organic and natural way. As opposed to aimlessly stuffing local keywords into your article, it provides readers with a better experience. There are many ways to come up with clickable SEO friendly headlines in order to attract users to your website.
Cover Local-Specific Topics.
In order to create quality optimised content in the first place, you will have to provide niche information. It is the same for local SEO. Depending on your industry, there can many topics in which you can write about and provide your opinion on.
Blog posts are a good way to naturally integrate location specific keywords. You can start by doing keyword research for your industry to find out what are the usual searches and topics that your customer base is interested in.
Each parent article deserves a topic and article of their own. Most importantly, for local SEO, you will want to bridge local events with your industry. Incorporate the recent trends or latest news into your content organically.
Get Involved in Your Local Community
There are many ways that companies can get involved in the local community.
This could range from offering free services or discounts for a selected group of individuals, or sponsor local events and charities. Lend a helping hand to local charity societies in Singapore and organise a volunteer drive for your employees.
Having your employees join local Residential Committee (RC) events and attend community improvement projects makes for good publicity and adds more meaning to company cohesion and get-togethers.
As trends within the local community are continuously developing, getting involved and being familiar with the community is a good way to keep your ideas and content for your Local SEO up to date.
Use Local News Sources & Trends
Keeping up with news and current events within your city or community is a good form of writing local SEO optimized content. It provides an opportunity to naturally use local keywords and go into depth with a certain local niche topic.
This can be done by covering events, news reports, up and coming trends, etc on your blog (whilst crediting the original source). Opinion pieces and discussion segments are also ideas of local SEO content and make for good video content for YouTube.
Having a forum would also be helpful for engagement.
Additionally, it would be interesting to keep track of local viral trends and online news to stay relevant with your customer base. Incorporate them into your content and publicity campaigns. If done right, it could be an interesting and creative concept that sets you apart from your competitors.
Just look at this marketing campaign set by Singapore brands and agencies during the global 'Among Us' hype.
As far as content marketing and content creation for local SEO goes, you want to stay relevant and write about content related to your local business. The idea is still the same – provide value for your readers and customers.
Do not be too carried away to be writing for algorithms and optimising for keywords. After all, it is your readers who will be your customers, not the Google bots.
Conclusion
Local SEO can greatly boost your search engine visibility. Google is favouring local SEO as the benefits it brings to their users can be much more valuable than the traditional ones.
Local SEO strategies will take time to develop, which is why it may be wise to try out other marketing channels in tandem as well.
Most local businesses made the mistake of delaying their online marketing strategies. Hence, it is best to remain ahead of the curve and start building your own online presence and have an edge over competitors.