Every business with a website will be trying to reach the top page of Google search results. That is the primary goal that Search Engine Optimisation (SEO) strategy serves. Digital marketing firms can help companies achieve that through technical modifications to a website, allowing it to rank better for keywords and Google searches.
In this article today, we will discuss the use of SEO for Professional services and their industries.
Who this article is for:
Medical Services – Doctors, Dentists, Specialists
Legal Services – Lawyers, Solicitors,
Financial Services – Auditors, Accountants, Financial Advisors, Consultants
Professionals – Insurance, Real Estate Agents
Secret Weapon That Will Grow Your Business
Often, websites are built towards the goal of appealing to web users and customers. In the process, some key elements of the website might be compromised in the eyes of bots and algorithms. This would result in a poor Google Search result ranking, lowering your website's standings in Google. Not only does it mean that your prospective customers will be less likely to reach your website, it also nullifies your efforts in polishing the site for human traffic.
For a website to have successful recurring online traffic, it must first be able to appear in front of web viewers. Hence, SEO strategies are important in this aspect, for website owners to rank better in the eyes of their potential customers. According to Moz, the first page of Google captures 71% of search traffic clicks and has been reported to be as high as 92% in recent years. Second-page results only receive below 6% of all website clicks, a far cry from the audience that the first page receives.
Imagine moving up the Search Engine Result Pages (SERP) rankings, and getting an extra 50 more calls per month, how would that help you grow your business?
What is SEO and What Does it Do?
Search Engine Optimisation (SEO) is a strategy, involving making small improvements to parts of your website. This can include adding or removing content, modifying headers or your website's page directory.
All these changes would combine to give your website a noticeable improvement in user experience, allowing you to retain your website visitors better. It would also allow your website to appeal better to Google and rank better for services-related keywords.
SEO is divided into two areas – On-Page Optimisation and Off-Page Optimisation.
On Page SEO
On-page SEO is the basic practice of optimising individual web pages to lure more visitors to your website. Focusing on finding the common ground between search engine keywords and common searched enquires, on-page SEO will allow you to have directly control over all aspects of your page while garnering relevant traffic.
Content Creation
Providing valuable information is a cost-effective way for new websites to win over new clients. By offering valuable information on your website, you can score friendship points with search engine crawlers and attract visitors to your site as they will start to view your website as a source of information. Through these content,you can also highlight your expertise to potential customers and market your product or service.
Website Optimisation
Individual web pages can be optimised to rank higher and earn more relevant search traffic. This can be done for both the content and HTML source code of the page. Modifying headers, titles, loading time, readability, links, can help improve your website's impression upon the algorithm and give your users a better viewing experience.
Off-Page SEO
Off-page SEO is a crucial strategy that is often overlooked. Off Page SEO refers to the process of optimising for off-site ranking factors. Search engines like Google employ complex omnipresent algorithms to determine the ranking of your web page on the SERP. This includes improving search engine and web user's perception of a site's authenticity, relevance, and authority. These three forms of pillars of off-site SEO.
Link-Building
A way to obtain such relevance and trust is by creating backlinks, links from other websites to yours. This can be done in many various ways, in the form of guest blog posting or marketing your written content. Collaboration and partnerships are also another method that can boost your site's digital authority.
Many factors affect a website's SERP ranking on the backend, including hidden numerical values such as web authority, value, popularity, and content relevance.
Collaboration Campaigns
Off-page SEO campaigns vary depending on the industry. Unique strategies are often employed to establish backlinks for a website. The variety and effectiveness of these campaigns would depend on the creativity and experience of your digital marketing agency. Leading Solution has a portfolio of successful clients in the Home Needs industry that you can check out here.
Relevant Read: 7 Critical SEO Strategies to Get an Edge over your Competitors
SEO and Other-Related Services
Both aspects of SEO come together to form Google's digital opinion and ranking of your website. With a proper SEO infrastructure and strategy, your website can be understood better by the web algorithms, allowing it to rank higher in Google's ranking. Ultimately, it allows your firm to attract more clients with organic web traffic.
There are also other related strategies, including:
What does SEO mean for Professionals?
No matter which industry you are in, be it doctors or lawyers or other forms of professional services, SEO could benefit you and your company.
With the proper seeding of SEO groundwork, online leads will be able to find your company and its services, coming knocking on your metaphorical door. These searches are free from Google's organic search, and SEO brings customers with buying intent to you, giving you higher conversation rates. With an additional 10-20 interested customers contacting you for your services each month, that could easily mean a significant increase in your company's business sales.
In the long run, SEO can prove to be very cost effective.
Benefits of SEO for Professionals
A website is built to attract attention and land customers. It should be built to benefit your users and geared towards content discovery. SEO is about helping search engines like Google understand and present content to your prospective customers.
With sufficient experience in the field, a Digital Marketing team can cut to the chase and implement a fast-moving and fast-growing strategy, wasting no time in helping you secure online leads.
There are also many benefits to SEO that makes it an attractive marketing channel worth exploring.
An optimised website earns more traffic, giving your more room and numbers to convert into active leads. SEO is an effective way in appearing and appealing to customers searching for the services you provide.

SEO allows for room for malleability and equipping you with the knowledge of your competitor's SEO strategy, allowing you to keep up and stay ahead of your competition.

It is easy to keep track of ROI and KPI. Unlike traditional methods, the direct impact of SEO on your website can be measured and witnessed vividly. Online tools such as Ahref and Google Analytics can help track and monitor traffic, referral sources, conversation rate and other business metrics that may be relevant to the marketing campaign.
Furthermore, hiring an external firm to manage your digital marketing gives your team the perspective of a neutral third party. This can allow your firm to explore more innovative strategies that highlight your firm's unnoticed potential.


Hiring an external party for your SEO needs also saves you time in training up your staff or team to engage clients and roll out marketing campaigns.
Pitfalls of SEO for Professionals
Bad Backlinks
Although link building is essential to SEO, not all links are good links are good links. Bad backlinks, such as irrelevant links, spam website could hurt your search-engine rankings. Fixing backlinks require time and effort to scour through the web and disavow such links. This might be too costly for professional services firms to handle on their own.
Forgetting to Consider Monthly Search Volume
Are enough people searching for your keywords each month for the keywords to drive traffic to your website? Are you using keywords that are too long or too niche?
SEO services aim to drive up your monthly search volume by redirecting monthly search volumes to your website. Hence, average monthly traffic is an important metric to consider.
Poor Choice of Keywords
Is your website optimised for the keyword that people are searching for? Are you optimised for keywords with high search volumes and a high return rate?
For example, if you are an interior design firm in Singapore optimising for "Home Redesign", then it is a bad idea as the local searches contain higher search volumes in the form of "Home Renovation" instead.
To avoid such mistakes, an effective digital marketing firm should remain committed to researching and providing SEO services that will help boost your comparative advantage and relevance in the online digital space.
Ignoring the Competition

Alternatively, if you use a keyword that is too competitive, you have a hard time competing with established competition. Either that, or it may be a costly battle to overcome.
Instead, we would suggest for you to you will want to start with longer phrases that still have some search volume and slowly build up to more competitive words. Our SEO services are designed to beat the competition and take you well ahead of your rivals.
SEO is a tough battle filled with many mini hurdles to overcome. While these obstacles may be easily conquered and removed by experienced digital marketers, for the new and fresh blood, it might be costly in terms of time and money.
Common Mistakes for Websites that results in Poor Search Engine Ranking
Your website policy blocks Google from indexing your website

Google is unable to crawl for your website. This may mean that your website's layout or design makes it difficult for Google to determine its contents or crawl it properly.

Your website is not well linked and connected with other aspects of your website or other websites.

Your website is linked to websites that are not optimised for your SEO growth.

Your website's content has not been updated in a long while.

Your website is still young and new.

Your keyword market is very competitive.

Your website has been penalized by Google and removed from their index and cache.
All these common mistakes could point to poor Website on-page optimisation. However, worry not, for these is not an issue unsolvable by SEO.
Tips for Good SEO Practices
Avoid allowing your internal search results to be crawled by Google. Not only does this potentially harm the Google algorithm, but it may also leave a bad impression on your users. Users dislike entering a search engine result page after scouring through result pages on Google.

Use keywords in URLs. URLs with keywords would reveal your site's content and structure to web visitors, striking a better first impression when they navigate your website. In technical terms, it would also help with the Google algorithm.

Create a simple directory structure to organise your website's content and page. A common way to achieve that would be to use your directory structure to indicate the type of content found, giving your users a better direction of the content structure of your website. For example, directory names are often used to classify blogs and services sub-pages.

Create unique and accurate page titles and headers. This would help Google understand your website better, rewarding you with keywords that you can rank for in their algorithm. Avoid the use of generic greetings for website headers. Instead, use keywords relating to your line of work and industry to communicate your page's content. This same practice can also be applied for blog titles and website snippets.

Fix broken or bad links. Some links redirect users to a page that is no longer active or working. These links are undesirable as it hurts the website's ranking in the eyes of Google's omnipresent algorithm. Removed images are also another common source of Error404 pages. Using tools like Search Console, we will be able to dissect the linking infrastructure of the website. Following which, we can carry out link construction and deconstruction, correcting any formatting errors or repopulating proper links. These processes will help ease the recovery of the website's ranking status.

Create content that is factually accurate and updated regularly. Comprehensive information has a higher chance of attracting organic traffic. Most importantly, you should be creating content that is relevant to searches of high-volume traffic in your industry.

Optimise your images. Often, images are neglected in the site creation process. Semantic HTML markup helps search engine crawlers find and process images. By using technical HTML naming conventions, you can get your image displayed from Google image searches as well. The file name for the image uploaded is also important.
Form productive links. Links are a cornerstone in Google rankings. Google places heavy emphasis on the anchor text of hyperlinks. Hence, words like "Auditing Services in Singapore" would be more effective than "Check it out" in signalling to Google your website's industry and information. Links are how Google crawl the web for information to rank your website for keywords. There are many ways to obtain links for a website, with different marketing campaign strategies suited for different industries. Another aspect of links is the quality and status of the pages that your website is linked to. That is also another factor that Google considers when ranking your webpage. Hence, the websites that you linking to should be relevant to your industry and content.


Make the pages user-friendly across multiple platforms. Google favours mobile-friendly content, as do many users and viewers of websites. A pleasant user interface would not only please Google but give your customer a better viewing experience as well. There are also many strategies available in making your page mobile friendly, namely:
Responsive Web Design is by far the most popular choice and provides the most user-friendly experience.
Obtain authoritative links. Authoritative links come in many ways, with the most common being information. Positioning your website to be a constant source of reliable information can help you gain organic web traffic, while will further boost your SEO ranking. Blogs are handy in this aspect, providing your website with regular and engaging content.

To find out more about the differences between Pay-Per-Click Ads & SEO, you can check out our in-depth article here.
What makes a good SEO strategy?
Extensive knowledge of the industry and key-related websites. For financial and accounting professionals, it would be the ACCA and the Association for Financial Professionals. The knowledge of the digital landscape of the industry is important for formulating an effective SEO strategy, narrowing down which websites and keywords to target.


Demographic of prospective customers. Knowing the characteristics of the target client group can help in formulating the strategy to obtain high-value leads. Depending on the target demographic, the choice of SEO ammunition may differ. For example, the focus might shift from Website SEO to Social Media Marketing to capture a crowd of a specific niche. A mismatch of target audience and strategy could be catastrophic, leading to a waste of resources in terms of time and money.


Content marketing strategy. Content is important to keep your clients informed of the value and services that a firm provides. It is also key to building trust and rapport with strangers on the internet. For many accounting and financial firms, information and transparency would serve as the cornerstone for a long-lasting relationship between the accountants and clients.
An effective marketing campaign would capitalise on these benefits of SEO, to provide the most effective and cost-efficient way to generate leads.
How to Generate Leads from SEO Every Month?
The importance of ranking high on Google's result page highlights the value of SEO.
About 70% of Internet users never scroll past the first page of search results, which highlights the importance of websites being ranked on the first page. Furthermore, according to Zero Limit Web, the first five results will receive 67.6% of attention and clicks, leaving the remaining five to receive 3.73%.
Ranking poorly online leaves many stones unturned and opportunities unexplored. From a number's perspective, it is leaving untapped leads and money on the table. Web Traffic for financial related services in Singapore amount to 1800 searches per year. On average, that accounts for an average of 100 organic web searches per month. With the ability to position and rank better in those searches through SEO, that is an additional 100 prospective clients knocking on your website's doors.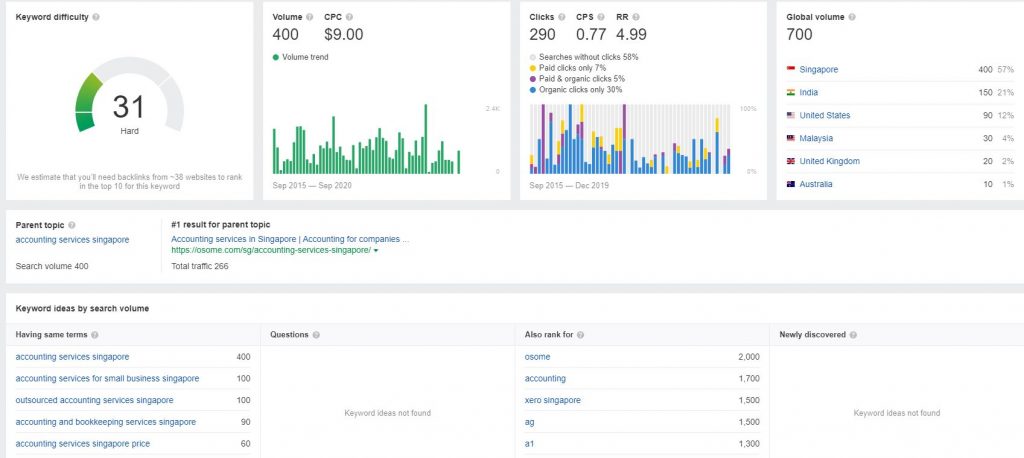 In Singapore, an average of 400 people is searching for the parent term "Accounting Services Singapore" on a monthly basis. (Source: Ahrefs)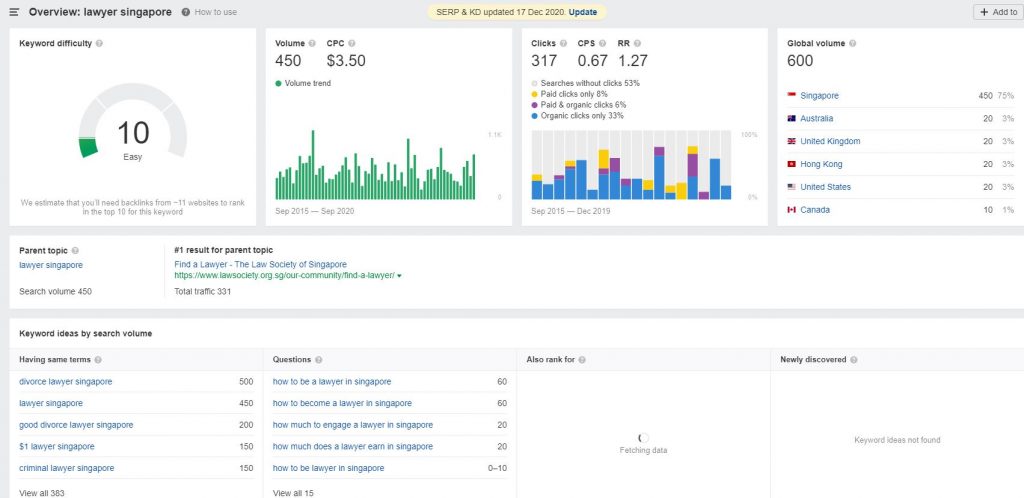 Similarly, the parent topic "Lawyer Singapore" also receive a monthly traffic volume of 450 local searches.
The first ranking website on Google Searches has an average click rate of 28.5%. With sufficient SEO fundamentals, that is about 114 new potential leads to convert into paying customers.

Final Words – Is SEO Necessary?
Sounds too complicated and tedious? Leave it to us. Here at LeadingSolution, we provide you with a range of services to suit your Digital Marketing needs. Whether you are a small business owner or a large corporate titan, we can suggest an SEO strategy that is best suited to you.
At Leading Solution, we are your lifelong advisor in digital marketing. We care for you far and beyond just digital marketing. We analyse, examine, and optimise your company's current strategies and operations to bring better results, then implement more successful marketing and branding strategies to your company.
Your company can be 100%, 500% more effective digitally, with better results, more profits, and higher margins.
Let us help you appear in the right places and right time, online.