Top of Mind of Your Customers and Leads
Email marketing is an efficient way to get to your current & future clients almost instantly. Through constant communication and updates through emails to your clients, you can keep them updated with your products and services, and constantly value add your clients.
You can easily and immediately reach to your desired target clients, capture them in your sales funnel and maintain a long term relationship with them. One key implementation that your business can never live without is email automation as a sales pillar for your organisation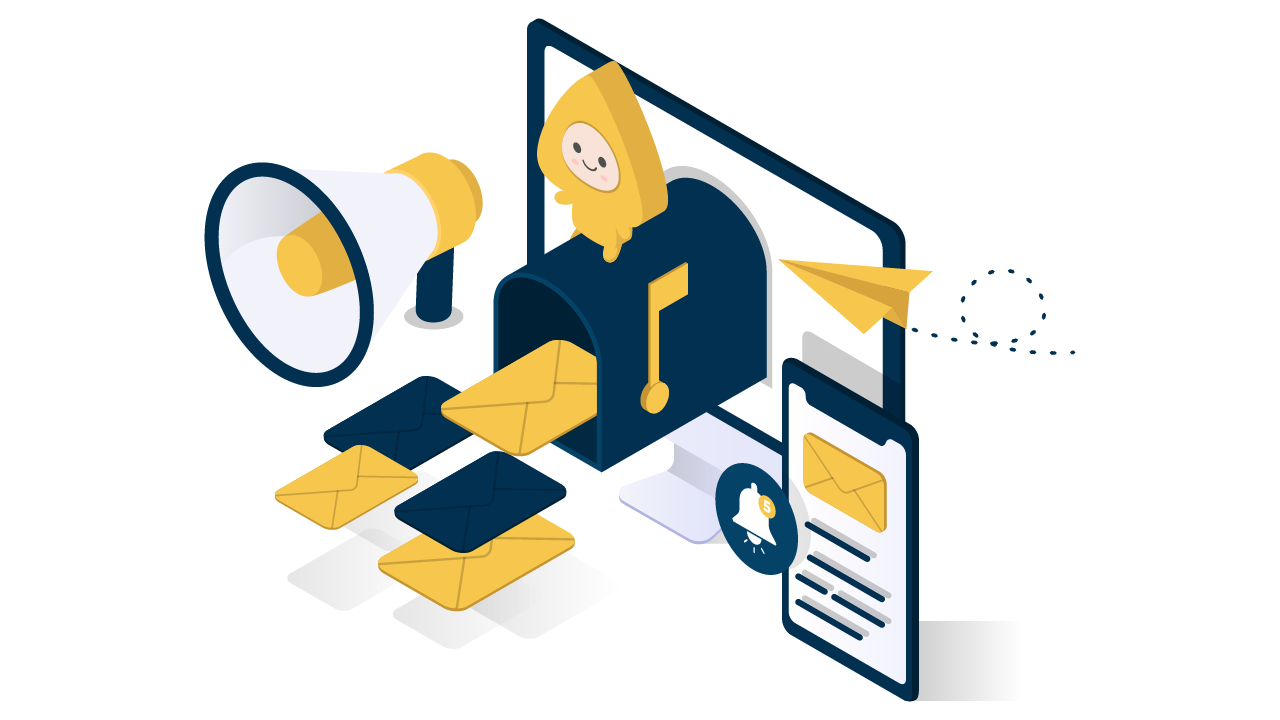 The Use of Email Marketing
While email marketing may sound like a thing from the past, you will be surprised to find out that the use of email is still one of the most effective marketing strategies. The use of email can help you to turn leads into customers.
First and foremost, almost all your customers check their email on a daily basis. This means that there is a higher chance for them to see your marketing campaign. It has also been studied that email offers a higher return of investment compared to other social media platforms. Therefore, email marketing is definitely one good investment for your business.
How does it work? When you advertise your products or services through email marketing, you can reach out to a large group of audience at once. A good advertising campaign that can capture the attention of potential customers will motivate them to visit your website after seeing the advertisement which can result in potential sales.
Since email marketing can make such a valuable impact to your business, it is important to ensure that your emails are not automatically directed into the spam mail category but stay in inbox.
This is where we come in to help you create stunning spam-free emails that will appeal to your audience. Repeated engagement with your audience can help you to establish a presence and spread your brand awareness.
The use of email marketing allows you to actively reach out to potential customers instead of waiting passively for them to approach you. Email marketing will allow you to reach out to a huge number of new audiences in a short period of time and it could also be a channel for you to maintain relations with existing customers.
It is an effective method to inform customers about your new products and services or even of any ongoing promotions.
In addition, email is a more appropriate medium for business compared to other social media platforms as email is usually the channel of communication between businesses and clients. There is naturally a greater sense of professionalism when advertising is done through email marketing as compared to social media marketing.
We create powerful, graphically stunning emails for you
Our designers take the extra effort to understand your business and clients, and make email copies that are highly relevant and appealing.
Great copy with innovative designs that capture and appeal to the readers increase these numbers even further.
We optimise all campaigns to deliver you the greatest results
We constantly improve your campaigns to get you the best conversion rates, conducting A/B testing to test whether your email works and appeals to your target audience.
We test the headline, call to action, copy, sales technique, designs to optimise your emails and provide you the best conversions and results to your business.
We deliver reports at the end of month so you can monitor your campaign progress
Statistics alone will not aid your organisation without the analyzing them. We generate insights that are relevant and applicable to your organisation, bringing exponential growth and success.
We create powerful copywriting to boost your conversion rates. Great email marketing campaigns increase click rates, conversion rates and email subscription rates.
Each of our copy is written with strategic keywords, words of influence and brand alignment to ensure the highest optimal results.
We fully automate your campaigns so you can focus on your most important tasks.
We handle all areas of your campaign, including strategies, and we design a process that educates your clients, satisfies your clients and closes them, without you worrying over every step of the email marketing process. We create the optimal email strategy for you and deliver the greatest results to your business.
We analyse all statistics of your campaign to increase your ROI.
Through measuring the statistics of your email campaign at every level – landing page conversion rate, email open rate, email click through rate etc – we can continuously improve and increase the effectiveness of your email campaign. This will lead to an increase in conversion rate, increase in ROI and reduction in costs for your company
Whenever possible, try to add some personal element to each email. One easiest way to do so is to use customers data to create personalised message. The first, most common way is to address your recipients with their real name instead of a general title such as "Dear Customer". Alternatively, you can also tweak the message based on individual customer's purchase history. Suggest products and services that are most likely to appeal to your recipient instead of randomly promoting your products and services.
You should never stop building your subscriber list. It is not a hard job and every subscriber added is a step closer to a deal closed. You can also consider to segment your subscriber list so that each of your email campaigns are more targeted to your target audience. Some possible ways to segment your subscriber list is by breaking them down into type of industries, interests and locations. By doing so, there is a higher chance that those who receive your email will open them and the unsubscribe rates will fall.
Automate your emails to be sent out at appropriate timing where users are most likely to open your emails. One possible choice is in the morning when people are more likely to check their phone before they start their day.
Most people open their emails on their mobile phones as it is more convenient to do so. As such, your email should be optimised for mobile devices and tablets so that they will not end up in the trash mail.
Customers respond to emails which are personalised have a relevant message, be it a newsletter or a promotional page. Having a call to action or limited time frame on your promotion could create an urgency for your customers to make the purchase.
The best email formats would have to be personalised greetings and relevant content. Customers want to feel the human element behind the emails.
You have less than one paragraph and five seconds of time to strike an interest to keep your customers reading.
Develop catchy phrases. Make cheesy references. Choose attractive fonts and images.
There are metrics that you can access and evaluate your campaign's outreach:
Click-Through rate – number of clicks divided by the number of emails. Usually showed as a percentage.
Conversion rate – Percentage of people who have opened your email and responded with the desired action.
Bounce rate – Number of emails that failed to reach your intended recipients.
The frequency would be depending on your marketing goals and campaign results. A monthly newsletter is a common practice. You can also run other email campaigns in tandem, such as a weekly promotion or a quarterly sale.