Is your business stuck? Are you experience erratic business volumes?
Your business may be booming in a month, and then in the next, you start seeing red because you are not selling enough. All of these for seemingly no other reason and no coherent pattern.
Erratic sales volume occurs when a business fails to be strategic. It is a worrying symptom. It reduces your business profits. It shows that the company itself is not in control of the sales volume and frequency.
While the act of purchasing is an act that always fall on the customer's shoulders, erratic business volume is always a red flag. It shows how fragile your marketing funnels and foundations are.
It shows that companies are not adopting a strategy to 'trigger' or 'elicit' sales. It implies that companies are passively responding to changes, instead of proactively influencing changes in consumer behaviours.
Campaigns may not be functioning properly as intended. Sales and discounts fail to generate enough revenue to cover the costs. Like a doctor at a flea market, you are simply waiting for customers to walk past and ask, "What are you doing here?".
So, how do we change that?
Reasons for Erratic Business Volume
Poor Funnelling System
A funnel system is the act of bringing your prospective clients, in terms of both quality and quantity, to the next stage of your business model.
Lead generation is about leveraging on the free traffic from Google searches to help local businesses get more customers. To do that, you need a business funnel. A funnel usually begins with receiving your clients when they reach your website, social media page or click on your pay per click ad.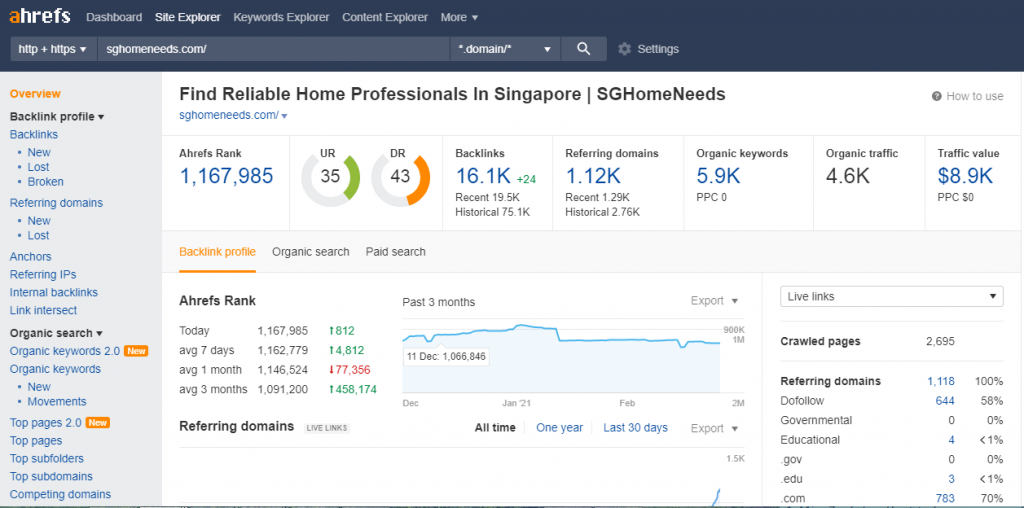 You will need a good site infrastructure, noticeable call to action, and even quality content to help you with converting your readers into interested audience members. These helps in building and shaping your business funnel.
All of these relies on a foundational system, which is the relationship between a visitor/customer and the company.
It is important to ask yourself this:
To attract your customers or lure them into finding you, you need to offer incentives or a bait. This can come in the form of free samples, discounted products, complimentary purchases, free quotations or consultations. It is a form of optimisation.
Optimisation involves small and fundamental changes to make your website ready to receive customers. This can result in a higher conversion rate. Changes may include search engine optimisation strategies, rolling out a content marketing strategy or rebranding your website to make the navigation more intuitive and site design more coherent.
All of these works as leverage to communicate with your clients and form a deeper human connection. Not only will you be able to see which of your clients has the highest level of interest and potential, you get to migrate them from being a "just looking" shopper to a "making a first purchase" first-time customer. And eventually, bring them to a "buying more" returning customer.
Big and well-known brands like Apple, Samsung, Acer do not wait for the leads to come in. They take action, from behind-the-scenes, even when it is unnoticeable. They perform lead generation campaigns in subtle ways. Their social media posts nudge you in a single direction towards their sales funnel, while they ads keep their brand on your mind even when you are not actively thinking about it.
Even large brands need to work actively to secure new customers.
But for small businesses that aren't a household name, finding customers can be particularly difficult.
This is why you need a strong digital marketing foundation. The Parthenon principle states that in business settings, small changes can go a long way and can achieve huge differences in results.
Lack of Specific Target Audience
For example, there seems to be so many channels you can choose to focus on.
How do you know what to prioritise and where to allocate resources?
How do you know where your customers are?
How do you get the channels up and running when there are other aspects you need to tend to?
Who is your ideal customer? Are you reaching these group of customers? Where do these customers spend time online at? Social media? Blogs? Forums?
If you are unsure of which marketing channel works best for you, consider consulting us. With our past experiences, we can advise you based on your industry and our market research.
A successful lead generation engine is what turns website visitors into prospective customers and provides a steady stream of sales prospects while you sleep.
To make the lead generation process work for your business, you need to first optimise your existing website for conversions. Your website is the most important tool you have for turning prospects into customers. Look through your website and ask yourself:
Do each of your webpages clearly guide visitors to take action, or do they leave them wondering what to do next?
Is your content engaging enough to provide value for your readers?
Do you use a tool that automatically pulls your form submission into your contact database?
Are you creating custom landing pages for every single campaign that you run?
Do you segregate your customers into different tiers based on their industry or purchase volume, for targeted campaigns?
Do you have lead generation call-to-actions in each of your blog posts? Do you update your blog regularly?
Poor Brand Awareness
If your customers don't know who you are, they can't buy from you.
Big brands have the luxury of being already well-known. But have you ever thought about how they could grow so much and so quickly?
Most of the hard work happens behind the scenes, away from the limelight. But there are strategies and steps for you and your company to find your place in the world and the eyes of consumes.
Publicity is about focusing your voice and finding your place in the market. You need to build your brand with an identity and a voice, so that your prospective customers know what you stand for and what your brand means to the general public.
Running a consistently high-quality blog will also help you build brand awareness. Not only does blog articles help drive traffic to your website and convert that traffic into leads, but it also helps you establish authority in your industry and trust among your prospects.
It'll also help you build an email list for email marketing campaigns.
How to Avoid Erratic Business Volume
What if you not selling enough?
What if you are selling enough sometimes but you are not selling enough during other times?
What if there seems to be no pattern, seasonal sessions, cyclical reasons for your irregular sales?
What if there seems to be no way to predict how much you and your business can make for the following month, where projections are reduced to guesswork?
Many companies find themselves at the mercy of customers in this way.
Optimise Your Business
Building a business is about having a sound and solid system to fall back upon.
#1 – Have Strong Fundamentals
You need strong fundamentals for such a system. This includes many aspects.
It can include having the right people in the right place, doing the right things to propel your business plan forward. For that to happen, you need a group of dedicated staff and team to join you on your journey.
It can also mean having strong marketing fundamentals. With solid digital marketing foundations, you get to enjoy stable sources of income, with recurring leads and sales. However, these marketing funnels – website, social media, ads, blogs – require regular maintanence and optimisation.
Knowing what business issues you are facing now, and might face in the future, is the foundation you need to scale your business in a gradual, but solid manner.
#2 – Optimise Your Workflow
Have a proper system to facilitate the workflow in your business. Assign task and responsibilities to your employees. With patience, building an unshakeable system is far from a pipe dream.
Managing your workflow will a challenge. You want to ensure that your team has the processes and tools to do good work and do it efficiently. As a business leader, you will not be able to be everywhere at once.
Prioritising is a valuable skill.
How else will you be able to focus on the business while ensuring that everyone working is doing exactly as they need?
#3 – Optimise Your Efficiency
The are many ways to diagnose the efficiency roadblocks in your workplace. You need to create platforms of communication, where your employees and teams can provide feedback for your system and company:
Encourage employee satisfaction surveys. Have your team complete these surveys periodically to keep track of their motivation and morale.
One-on-one meetings. Talk to your employees. Understand them on a personal level. Are they facing any problems during work? Is there any friction between team members? Do they have anything they would like to report?
Group meetings. Discuss as a team, what are the threats to the business that they face or witness? Are there any issues that give them the most "pain" in their roles? What forms the regular bottlenecks that the company faces at each level of management?
Adopt the Proper Mindset
#1 – Having a Good Strategy
It is important to have a good strategy and stick to it.
Without a proper strategy, marketing campaigns may get out of hand. Companies and teams may remain undisciplined, resulting in higher spending than required. You may spend more time or money than what is needed.
This translate to a high oppurtunity costs.
To smaller firms who are already facing resource issues, this may be place a further strain on the company finances.
Failing to strategise can be costly. Regardless of time, money or effort, resources have to be strategically allocated for your company to make the best of its current resources.
#2 – Having a Sense of Purpose
Apart from strategy, it is also important to have a sense of purpose.
What is your purpose? What is driving you? What is your vision for the company and your employees?
A business is only as strong as the psychology of its leader.
A ship needs a captain to guide the way but the captain must know his bearings in order to.
It's up to you to do the work and bring purpose to your company.
None of the above can happen at scale without a fantastic team that understands your vision and supports your efforts.
Know Your People
#1 – Hire The Right People
Hiring is often one of the biggest challenges any small business can face.
You need to remain frugal in your resources, yet you may be punished for being too stingy.
Hiring is a complex and lengthy process. It puts a strain on the company's resources. Not to mention, the hidden costs of onboarding a new employee can balloon up to $4000 per employee.
And if you don't hire well, employee turnover can also be very, very expensive.
It's easy to hire with a short-term mindset. You send out a job listing, host interviews to screen out applications, you narrow down on your selected candidates and make a decision.
But hiring can be expensive. You need plenty of time for it and there is a huge opportunity cost involved with each decision.
Just as you identify your ideal customers, you need to look out for your ideal candidates. Your employee each have a role to fulfil and each role requires a different type of skill set. You have to be able to rely on them to believe in your company's vision and goal, to help your company achieve milestones and breakthroughs.
You do not need just good employees; you need great ones.
#2 – Hire the Right Firm
If it is not great employees, hire great teams. External parties can also help add value to your company. Hiring the right applicant and keeping them in the company can be tough, which is why sometimes, for ad-hoc on-demand tasks, such as marketing campaigns, it could be wise to leave the job to professional firms to fulfil your needs.
Hiring a digital marketing firm can allow you to dip your toes into the industry without fully committing your resources into it. Depending on your return-on-investments, you can then decide whether you would like to pursue this venture.
However, most of the time, it often works out.
Consider the following:
How many clients do you get on a monthly basis, to your digial platforms, such as your website and social media?
How much more business and sales could an additional 20-50 visitors mean to you?
How many of those prospects would you be able to close and convert into paying customers?
Depending on your industry, the search volume of your relevant keywords may vary. However, the point is to capture the search intent of your prospective customers.
#3 – Embark on Joint Ventures
The same goes for joint ventures and partnerships. You need to be able to trust the firm you hire or the company you partnered up with. Take ownership of your brand and make others interested in learning more about it.
This will open up your doors in creating more opportunities.
With joint ventures, you can have a more sustainable volume in sales. A larger volume of sales mean larger economies of scale, giving you better cost savings to support your profit margins. Your costs may no longer eat into your profits. Leads from your shared channels may also be more stable for your business.
Conclusion
Even the biggest businesses were once small.
Regardless of the industry, businesses face common issues. Apple, the giant titan, once faced near bankruptcy before becoming the face of smartphones that we know of today.
And even now, their marketing momentum continues to snowball.
Businesses and sales volume may be cyclical or seasonal in nature. There may be little you can do as a business owner to change that matter of fact. However, it is important to be prepared for it. Having strong and stable digital marketing foundations can help you leverage on high-volume opportunities while tiding your through low-volume moments.
With proper marketing pillars in place, you can start to enjoy stable and recurring business leads and growth.
Allow us to help you build your marketing pillars.
Get unstuck.
Book a consult with us today. Leading Solution is a Digital Marketing Agency in Singapore that aims to be your lifelong advisor in marketing.
We analyse, examine and optimise your company's current strategies and operations to make your company 100%, 500% more effective digitally. Enjoy better results and higher profit margins with us.