An Introduction to Backlinks – What is a Backlink and How to Get More Backlinks?
Pages with plenty of acquired backlinks have a higher chance of achieving a higher-ranking status on Search Engine Ranking Pages (SERP). This is why many companies focus on backlinks as part of their SEO strategies.
Backlinks are also sometimes commonly referred to as 'inbound links' or 'incoming links'.
What Does a Backlink Mean?
Effectively, backlinks are links from external sources (other domains) that point to pages on your website (your domain). Backlinks act as paths for organic traffic and web crawlers to travel from other domains to yours.
The counterpart for backlinks is internal links, sometimes casually referred as internal backlinks.
Why Are Backlinks Important?
Backlinks are essential for both search engines and organic users.
Backlinks help with ranking. The term commonly used is 'vote of confidence'. Effectively, that means that backlinks show Google and many other search engine algorithms that the website is worthy of many aspects that Google can reward them. This includes website authority, topic relevance, search visibility and ranking position.
Backlinks help improve your page's organic traffic. Search engine crawlers travel through the internet every day and hour through the use of backlinks. By checking for new links, crawlers end up at popular pages more often than unpopular ones. By rediscovering your webpage more frequently, your website gains an association with your linked websites. This also works for organic traffic, giving your website more of an online presence.
How Does A Backlink Work for SEO Purposes?
It is important to note that backlinks play an integral role in Search Engine Optimisation strategies. Your website's overall ranking strength is largely dependant on your backlink portfolio – how relevant and diverse your backlinks are.
The total number of backlinks often include links from the same referring domain or from multiple respective domains.
Do Backlinks Still Work in 2021, and How to Acquire Quality Backlinks?
The focus of backlinks has rumoured to have changed and dwindled in effectiveness over the last decade.
However, there remains countless evidence in the field of SEO that points to backlinks being a key foundation of Google's PageRank algorithm.
"The more backlinks a page has, the more organic traffic it gets from Google."

– Ahrefs
Nevertheless, not all backlinks are good links. Too many backlinks from unreliable or dubious sources can lead to harmful effects for your site's SERP.
There are many factors which can determine a link's quality and effectiveness. Finding out what makes a good backlink can help you stay away from harmful practices that might cause your website to dip in ranking.
What Makes A Good Backlink?
Some backlinks (inbound links) carry more value than others. You will gain more value obtaining links from relevant websites within your industry or niche, rather than having a link from an old, spammy, unvisited website.
Good backlinks should have relevance. Google places more value on relevant backlinks and links that are clicked through more often, as these click-through shows a link's 'legitimacy'. Having backlinks from sources that are related to your website also makes the website look legit. In the eyes of Google, having an interior design website link to an accountancy webpage may seem a bit off, as there is little to no overlap in keywords for these two industries.

If many sites link to the same website (or baby webpages), search engines may interpret that content is worth linking to, and therefore also worth ranking higher on a SERP.



Backlinks from strong pages may not always transfer more backlink authority, but backlinks from authoritative sites are always good to have. There are many statistics to measure a site's authority. URL Rating (UR) is AhRefs' page-level authority metric and carries a score from 0–100.

In the past, quantity of backlinks was a strong indicator of a page's popularity. since Google's Penguin update nearly a decade ago, more focus is placed on the quality of links since then.



Having more clicks on the backlinks adds value to your site's SEO ability, as it shows to Google that your website is more likely to attract user's clicks, which translates to, again, a 'vote of confidence' that is given by web users to your website. With more traffic on their website, you get a higher chance of redirected audience onto your website as well. Backlinks can establish connecting similar points of information that a searcher may be interested in clicking.


Link Location is an aspect that many web owners neglect. Links need to be placed in an optimal spot in an article for it to be enticing enough for users to click on it.
Why You Should Use Outbound Links?
Outbound links, also known as external links, are links out of your website, to others. Just as backlinks into your website differ in value, links out of your website have varying degrees of SEO weight.
Optimising outbound links is one of the SEO tactics that the industry's opinion is commonly divided. Some believe that they are essential for optimisation and provide the website with enough SEO juice to supercharge its ranking and online presence. Others, on the other hand, believe that it does little to no change in affecting one's ranking.
Nevertheless, outbound links are links that can add more context and link a reader to a separate source of information. Usually, outbound links are used to enhance information about the topic at hand. Writers use them to back up information that is presented in their articles, usually using authoritative sources as backup. This is important when touching on complex topics that may require more explaining for readers to understand the concepts.


Linking to other authoritative websites is a great way to provide value and information to your readers. Links help users find out more about the industry or topic. Outbound links are how you often reference your source. By citing and linking to the source, you build rapport with your readers in establishing yourself as a trusted source of information. In a world where fake news run rampant online, trust is sadly becoming a form of currency.


As of Google's August 2019 Update, Google sees clear citing of sources as a form of evidence for expertise. The understanding is that experts in an industry or field will likely know the right sources to cite as opposed to writers who are less familiar with the context.


Outbound links build relationships with other websites. Few people would argue that you should never link out from your content as it drives people away from your website. However, offering outbound links could be the start of a healthy business collaboration between websites, effectively gaining you more backlinks in the future.

These also highlight the importance of positioning and working your way up in the ranking ladders to be an 'authoritative source'. Having a solid footing as a source of information would incentivise other websites to link to you, effectively providing you with regular free backlinks.
This is why content marketing is commonly referred to as a form of link building.
Speaking of link building…
Link Building
Backlinks can be time-consuming and labour-intensive to obtain. Newer sites looking to leave their digital footprint online may be at a loss on where to start. That is where backlink research comes into the picture.
Backlink research forms the foundation of link building. It is the usual first step that digital marketers take before embarking of link building strategies. Anecdotally, it resembles sketching a map of the road you are about to drive along, taking note of the direction, pitfalls, and hard turns.
By examining the backlink profile of your competitors, you also stand to gain an insight into the backlink landscape of your industry and competition.
From there, it is easier to formulate your link building strategies after reverse-engineering what works and what does not for your competition.
How to do Backlink Research
Attaining backlinks is an essential aspect of off-site SEO strategies. This process is usually referred to as 'link building'.
Backlink research will end you up with a collection of pages and domains linking to a website. There are a few metrics that you should take note of:
Anchor text – the anchor surrounding the link.
Domain Rating (DR) – the score given by Ahref to indicate a website's authority.
URL Rating (UR) – the score given by Ahref to indicate a specific webpage's authority.
Referring page – the page linking to the target page. This will give you information of what site is giving the backlink juice.
Web Traffic – total average estimated monthly organic search traffic to the linked page.
For the following example, we will be using Ahref's Keyword Research tool. However, there are plenty of other available tools on the internet such as SemRush and Moz.
Step 1 – Determine your competitors.
Find the source of your competitors' links. Then, proceed to replicate them. In most cases, your competitors are the ones who already rank high in Google' SERP. Established sites will have a ton of backlinks to their website, which you can convert into link building opportunities.
To do this, simply open your browser's Incognito Mode. It is important to use the Incognito Mode so that your search results will not be affected by pre-existing cookies.
Enter a search for the keyword which you wish to rank for. The ensuing top three results on Google's SERP would be good sites for you to reference for the following link building activity.
For the following example, we will be using 'Lawyer Services Singapore' as an example.
Step 2 – Reverse engineer their backlinks.
Next, go to Ahrefs Site Explorer and punch in the first URL on the SERP to their online site explorer too. For our example, it will be SingaporeLegalAdvice.com.
Select exact URL (for web pages) or domain/ (for websites) mode from the drop-down.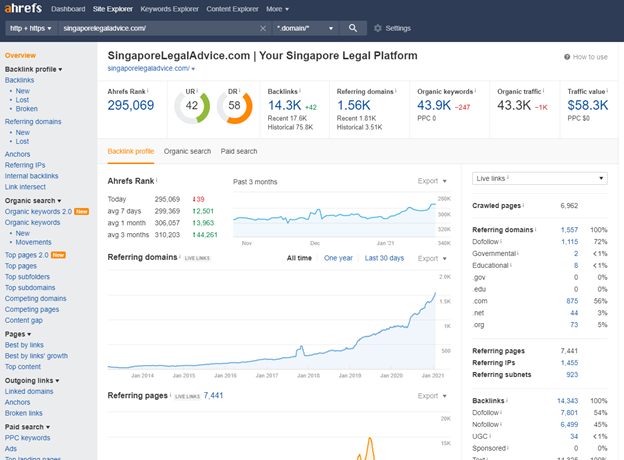 On the left toolbar, there is a backlink report that you can click on to download. The backlink report file can be exported and opened with Microsoft Excel.
Repeat this process for the next few URLs on the SERP.
Step 3 – Filter and Sorting the backlinks
Now what can you do with this information?
Firstly, we have to narrow down our backlinks. You can narrow and filter out unnecessary information through the use of filters on AhRef's site explorer. Filter out any other language except for English and set the Link type to Dofollow to give you a better list of insightful links.
Next, sort the links based on traffic, from high to low. This allows you to prioritise links from pages with the most traffic. Pages with high traffic are valuable, due to the organic traffic it attracts on a daily basis. They can be resources to tap into for joint ventures and partnerships.
More organic traffic means more referral traffic, as there is a higher chance that someone will click on your link and land on your webpage.
And we only want to focus on high traffic websites because…
Step 4 – Outreach
You want to outreach to websites with higher traffic count.
Work your way down your list, paying attention to the context of each link and its key metrics. Figure out a script and method of outreaching to the webpage, asking them if they are okay with adding your link alongside your competitor's. This is the tough part, as there are only a couple of reasons why people would want to provide a backlink for you.
There are a couple of strategies that you can attempt.
What is a Backlink Strategy?
A backlink strategy, or rather, a link building strategy, revolves around studying your opponents in your industry.
Through backlink research, we can get to understand more about the industry and your competitors, to mimic and outperform their backlink portfolio.
Backlink strategies help companies and digital marketing teams to guide their backlink building process – What type of backlinks to build? What format to use? Which area of the internet to outreach towards? These are key questions that can guide a user through the backlink building process.
How Do You Build a Backlink?
There are many ways to build a backlink. There are also different categories of backlinks.
For a start, performing a Google search for a topic or post and studying what is already ranking well is a good starting point on what content to write upon and include in your content marketing or backlink strategy.
Building Backlinks
Building backlinks is the process of reaching out to other site owners to ask them to link to your page. There can be plenty of reasons why people would want to do that for you.
For one, guest blogging is a common win-win strategy for websites to share their audience and obtain new ones. As the name suggests, you will be writing a one-off post for their website while they offer one for you too. The content can be similar, but ultimately serves as a way to funnel and direct their audience over to your site, effectively converting them into your audience members as well. Naturally for this to work as a win-win strategy, your website would also have to have a following and regular traffic to convince your collaborative partners that you are a site worthy of guest posting with.
Broken link building is another age-old strategy that is used by many digital marketing firms. By finding relevant dead links on other sites, usually directories, you can then reach out to suggest to them to use your website as a working link instead. There are plenty of broken link checker tools available on the internet for this purpose.
Unlinked mentions work in the same way, but instead of sourcing for broken links, you can approach blogs or articles that did mention your brand and website but neglected to provide a linked reference to your website. Under normal circumstances, it is pretty tough to source for this area of opportunity. However, you may come across it when studying your competitors or potential partners in your vertical.
Partnership links are more common and less intrusive in nature. Partnership links usually involve exchanging backlinks, in the form of referral or badges. This allows both websites to share their audiences, effectively resulting in a win-win situation. Partnership links are not difficult to achieve, but it does take time and effort. Build relationships with websites over time. If their content suits what you are writing, reference it in your articles, or reach out to them asking if it is okay to feature their article on your website.
Social media profile links are also worthy of mention. While social media links may not have the rank-impacting influence that most other links do, they have the ability to help you direct organic traffic online your website.
Profile links can also come in the form of forum profile links, which can also help your company to grow its brand awareness when your online presence in the local community starts to become noticeable.


Earning Backlinks
Apart from building backlinks from scratch, websites can also earn backlinks themselves. It is a longer process, but it involves content marketing and a little word of mouth.
By creating useful content, you position yourself as an information leader in the industry, that other websites would want to reference and link to. An example of this can be seen from The Woke Salaryman website. Since its first post in April 2019, The Woke Salaryman is officially one of the top Singapore finance blogs. Having caught on viral trends and using relevant content and storytelling mediums, the website is able to garner a huge following at a rapid rate. Its easy-to-digest infographics allow users to share their content easily.
Similarly, websites like TheSmartLocal and Moneysmart posts regular news and promotional gimmicks that may entice readers to share around online as a resource.
The benefit of this strategy is that these backlinks earned are organic and scalable. After the initial groundwork, there is no need to monitor or perform any tedious labour for acquiring more backlinks. Instead, your audience members would do it themselves, saving you the trouble.
The following are useful starting points on creating quality and reader-appreciative content which can lead to backlinks:
Ultimate 'How to' guides
List posts
Infographics
"Why ____" explanation posts
Referral links
Having your product or service reviewed or represented by a reputable figure can be seen as a viable method to earn backlinks to your site. Popular bloggers or social media personas can be a huge source of organic traffic for you to tap into.
Buying Backlinks
Link purchasing is an available practice but is frequently frowned upon and becoming less effective. Paid links are a dangerous realm to enter. According to Ahref, out of 630 blogs, the average price of paid links can go up to above $300. Buying links is definitely an attractive method to entertain. You pay and you get results. However, $300 is not cheap for a single link.


Buying links is often seen as a manipulative practice, sometimes referred as black-hat SEO, a practice that may get your site banned from the search results.
In reality, you are better off engaging a third-party digital marketing agency to build your website's backlinks. It might take longer to obtain links, but it will probably be more cost effective than throwing money for paid links.
Having links from websites which are not so relevant to your industry may have adverse effects on your website's SERP status. Google's algorithms are complex and always evolving. With lesser focus placed on quantity rather than quality, there is even lesser reason to entertain the idea of purchasing links.
Which Link Building Strategy is the Best?
When it comes to link building, experience matters. Each industry's link building tactics work differently. Having an experienced digital marketer manage your link building strategies could save you time with the initial trial-and-error stages of your digital marketing.
"The more backlinks a domain has, the higher is its position on the SERP."

–SEMRush
How Can I Get Free Backlinks?
Free backlinks are a result an investment of time and a game of patience. As mentioned before, useful content can be leveraged upon to earn you backlinks which are essentially free, as a product of your hard work and disciplined link building strategy.
These types of backlinks have lasting effects and can help improve your website's professional network, gaining your more potential partnership links or joint ventures in the future.
The process of building 'free backlinks' can lead you to have a better understanding of your industry, through backlink research and market research. That knowledge will be useful for weighing the effectiveness of SEO against other marketing channels or formulating other strategies, such as pay per click ads.
Internal Linking
An internal link is a method that you have total control over. You can control anything from the anchor text to the linked pages and link direction.
The anchor text is one of the most important things search engines consider when ranking a website and awarding it its keywords. You want your anchor text to be focused and relevant. Internal linking for keywords you hope to be discovered for is an effective way of telling Google bots more about your website, to push them into the right direction of understanding your website.
Link Building Best Practices
Consider who and which webpage you are linking out to. Outbound links, as previously mentioned, should be used to establish your information, and cite your sources. It is important that you carefully choose your sources.


Avoid forcing links into your content. If you find the need to, you are likely doing it wrongly. Links make the best sense when the context is right and there is a need for reference.


Check your outbound link issues. Use site audit tools to see a list of outgoing links of your website. Double check if there are any links with an unintentional nofollow attribute. Alternatively, you can hire an external party to perform an SEO audit for your website.
Conclusion
It is believed that Google uses more than 200 different ranking factors to rank a website on its result page. Backlink efforts alone are insufficient in giving your website the ultimate push.
Hence it is important to also run multiple SEO strategies and even multiple digital marketing channels. If it is too difficult to handle, you can consider outsourcing your digital marketing needs to a third party.