Is your business stuck, losing out to the competition?
If you are losing out to a competitor, a rival, it may not necessarily mean that they are offering a better product or service than you.
It may simply mean that they take a better and wiser approach to one of the following – positioning, marketing and selling. It may also mean that your approach is not working, or at least, not working the way it should.
Either way, losing out to competition is not a good feeling to have.
No one likes it.
You are behind in numbers. Your finances are in the red. Customers are around in your industry and niche, but you are just not receiving any of them. You start to suspect the market share that your competitors have control over and try to make anxiety-filled educated guesses about it.
You start to wonder if their numbers have increased in tandem with your fall in business.
As the saying goes "Insanity is doing the same thing over and over and expecting different results".
Either way, if you are losing out to your rivals, something needs to change, and it is time to do something different.
Uncover what Your Competitors Are Doing Exactly
The first step to getting unstuck would be for you to research very deeply what your competition is doing, what are their successful marketing tactics, and how are they getting their sales.
No guesses, just plain old market research. Using superior knowledge and tools.
This is a very easy way for you to review your current place in the market and it also gives you the chance to find out what your clients expect from you.
In the digital space, this can be as easy as typing your industry-related search terms and entering it into search engines.
Take note of where your competitors stand. Where do they rank at? How far ahead are they? How far behind are you?
You can also go ahead a step further and find out what keywords are your competitors stronger in, through keyword research, as compared to your website and brand.
The next step is to find out how your competition are doing.
How much are they charging for their products and services?
Is their website better than yours?
What are their marketing channels?
Are they doing PPC? Email Marketing? Referral programs? SEO? Social Media Marketing?
How did they initially get their business started? What worked for them?
For example, if you are charging more than anyone else in your sector, then this could mean that you are losing out on sales because your competition is cheaper. If you are charging less then this may be a good thing, but if you are undercutting your competition too much then your customers may think that you are cheap and providing a poor-quality service.
If you'd like to do a research, you can look for online tools such as Ahref, or SEMRush to find their SEO strategy, Similarweb or Alexa for online traffic.
Alternatively, you can hire a professional to do the market research for you.
A Story Example – Doing Things Similarly But Differently
There are many aspects of a business to change. But to illustrate this point, let us start with a story.
Here's a story of Tim and Kenny, two fictional characters in the digital marketing space who started out wanted to sell wallets.
Tim, being educated in digital marketing and having trained for years in the industry, is well-versed in the requirements and strategies of content marketing. Tim can do copywriting very well, and he saw potential in overlooked segments of the market, in particular, wallets.
Tim starts off with targeting a crowd who support the minimalist movement. He feels that he wanted to create a wallet that is slick and slim, carrying notes and cards without being too bulky. Of all the people in the world, he believes that the minimalism concept is one that is aligned with his product's vision and mission.
He pushes out his first line of wallet products, the Tim Wallet 1.0, a wallet that are slim, yet trendy. They serve the bare bone purchase of storing card and dollar notes, but the wallet is somehow able to remain flat and easy to keep.
Tim ran digital ads promoting these features, spending a whopping $25,000 assuring everyone that their wallet need not be that bulky anymore if they choose his. An unorthodox price point of $28, Tim brings in up to $50,000 of sales.
With massive profits already secured in his pocket, Tim didn't see any further runway for this venture, and decided to close down Tim Wallet Pte Ltd and left the industry.
===
Kenny, on the hand, did not start off as well as Tim. Kenny does not understand copywriting much, but Kenny is known to be a scheming strategist.
Kenny entered the marketing place with a different game plan, but similar product. His wallet product is no flatter than Tim, and his concept of his product no further.
To the unsuspecting eye or the not-so-picky user, Tim's and Kenny's product might even look the same. However, apparently to the rest of the world that viewed his online ads, they did not feel that way.
Turns out, Tim's copywriting capabilities won the hearts and purchases of many prospective customers. For the same amount of online ad cost, $25,000, Kenny only brought back $20,000 in sales. Ignoring costs of sales and operations, Kenny has already lost $5000.
However, instead of getting frustrated and anxious, Kenny sought to differentiate his product in a different way. His wallets are mailed out in a high-end leather pouch, along with a solid cardboard box that is specifically designed to be like a jeweller's case. The cost of packaging eats into the profits, but Kenny believes that this cost will go a long way.
Kenny even attaches a letter to his mailed products to thank his customers for his purchase and offers a 30-day return guarantee.
His strategy brings him into the red in the first couple of years, but he is able to secure loyal and returning customers who believe in his brand and product. They enjoy the feeling of royalty, as Kenny's brand catches on in the eyes of the public. The Kenny Wallet 1.0 is now known as the trendiest way to bring money around.
The 30-days return guarantee built his prospect's confidence in his company, and he managed to earn that trust.
What's the end result for Kenny's journey?
You can fill in the blanks, but ultimately, it is a happy ending.
It's about thinking differently.
#1: Creating Steady Profits – Multiple Streams of Marketing
Marketing drives product awareness, cultivates brand credibility, builds trust among your target buyers and provides value to your audience in the form of information, entertainment and inspiration.
Marketing is important. Otherwise, how else can you make people aware of what you are selling? What do you make people know about your products or services? It helps to build a relationship with your customers, giving you insight to your business and teaching you, through numbers and metrics, how to boost sales.
When you change your marketing strategy, you change your results. Small changes compound and add up.
Changing the location of your call-to-action could yield significant results, when you place it at a space that is more attention-capturing.
Changing the placement of your ads and buttons could redirect your viewers focus, just like how a tweak in your ad copy could attract a new set of customers.
Here are a few ways you can market yourself and your brand better:
Be confident and list what makes your company unique. Tell your prospects what they are being offered by you, that your competitors cannot offer them.
Do not hesitate to flaunt your own achievements and milestones. However, practice it with humility, in a manner that highlights the benefit that you can bring to your clients. Take note that it should not be overdone or portrayed in an overbearing manner. Instead, you should use it on a convincing note to persuade your prospects that you are worthy of their trust.
Learn to see prospects, opportunities and campaigns as a long-term investment and journey. Make a tonal shift in your attitude and approach. As a business owner, you need a long-term strategy that drives every activity in your business, from landing prospects, closing the sale, reselling, and upselling your clients and landing more prospects.

Understand your strength and weaknesses and centre your attention on the former. Everyone is human. No one is perfect. Acknowledging your flaws and seeking to improve upon your weakness is an effective strategy for improvement.

Challenge your industry's norm by introducing new perspectives and strategies. Be confident to spearhead into uncharted waters.

Venture, but do so with controlled risk. Seek to reduce or eliminate risks by analysing which risk are worth undertaking, which aren't.

Support your arguments with research and data. Proven statistics can help you push your point better than any summary, comparison or essay can. Blogs can also be a structured way for you to showcase such statistics.
#2: Your Secret Weapon – In-Depth Market Research
For the following example, we will look at one of our client's work – SGHomeNeeds – and their main competitor – Qanvast.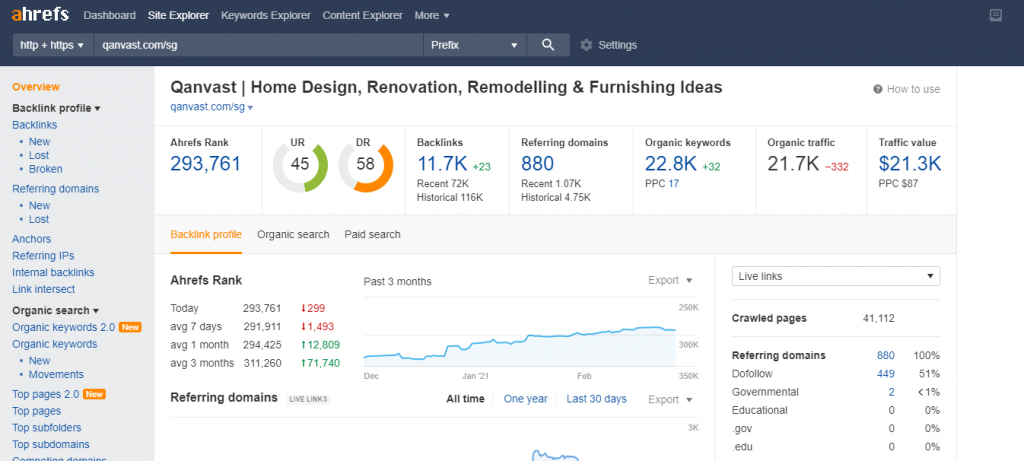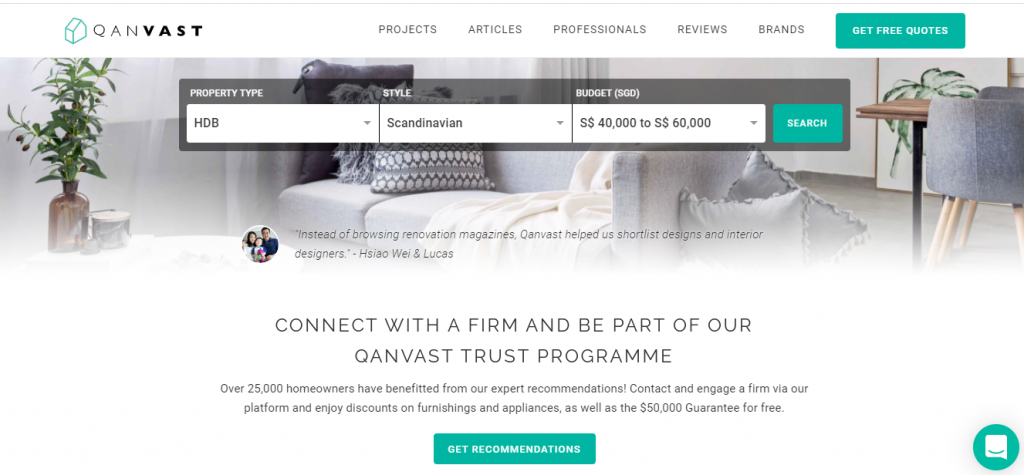 According to Ahrefs, Qanvast has backlinks from 872 unique domains.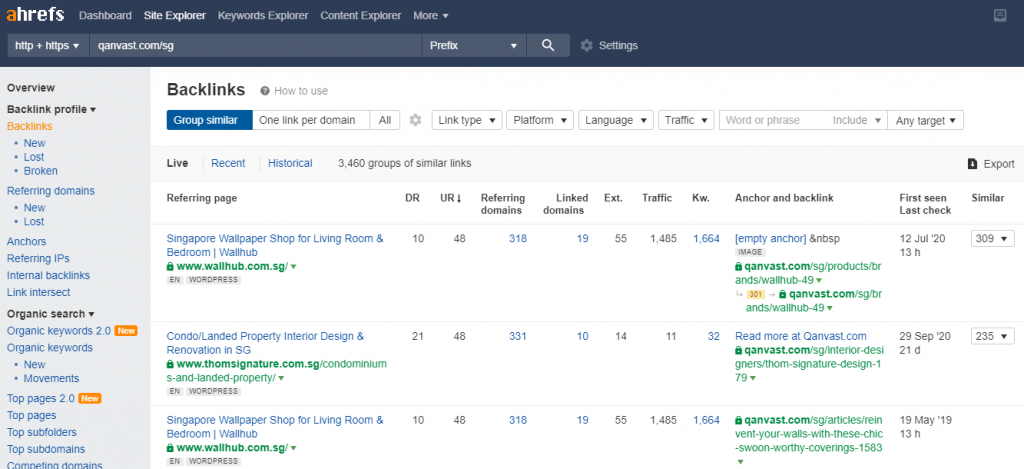 Additionally, they also have around 15,000 organic keywords, placing them in the search engine results page of these related keywords. Having more relevant organic keywords for a website is a very valuable position to be in, as it gives them more chances to appear in front of search intent.
This makes their website more likely to appear in front of a large number of potential leads.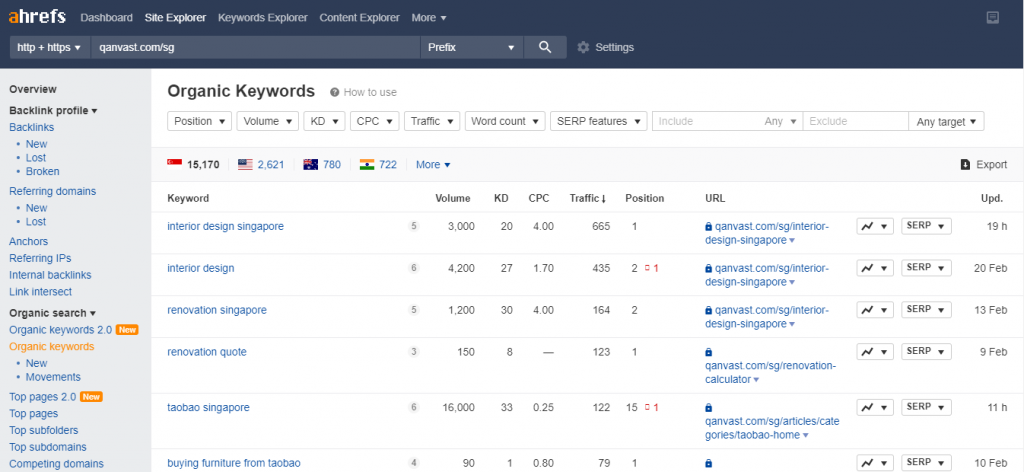 On the other hand, similarly, SGHomeNeeds is a home services platform in Singapore, offering all kinds of home services from interior designers to handyman and contractors. It is for homeowners to find and engage reliable services, get home ideas and get matched with local home services companies.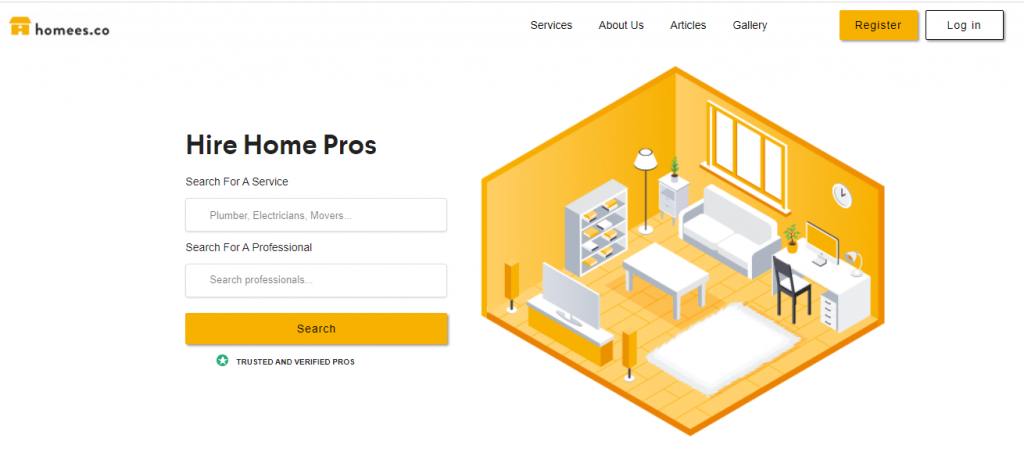 With Leading Solution, we aim to level the playing field and allow you to catch up with your competitors. Through backlink building strategies, on-page and off-page search engine optimisation, we embarked on this large challenging SEO project.
As a startup, SGHomeNeeds have limited resources but still require traffic to their sites. They also have to cater to two very different groups of individuals – business owners and consumers. Creating a two-sided digital platform with almost no resources is tough.
Time and patience is needed. With limited manpower, the team relied on expertise and cooperation, employing a slow and steady progress. The marketing plan relied heavily on optimisation, content creation through blogs and referral traffic, planning and executing rounds of optimisation periodically. Google Pay Per Click ads was out of the question due to its high cost, eliminating it as a potential option.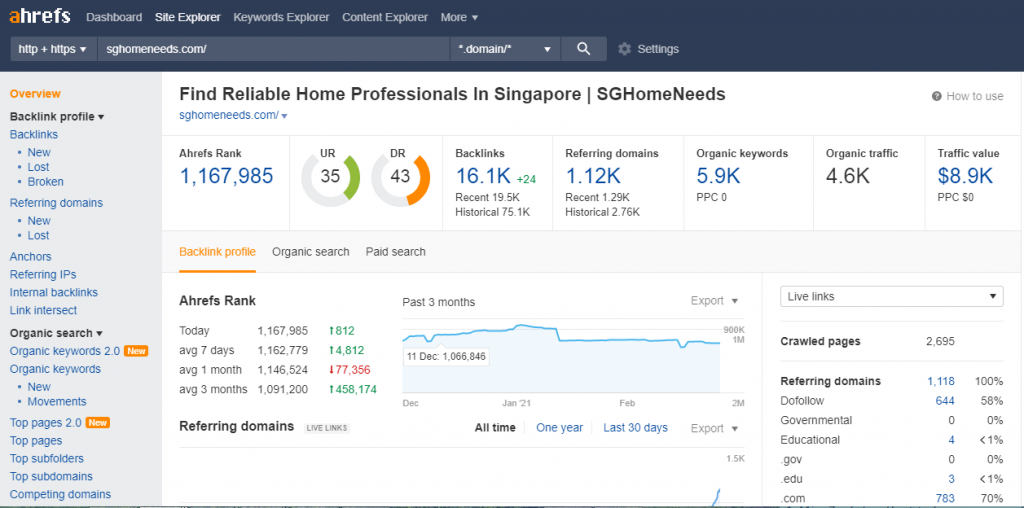 Now, SGHomeNeeds enjoys up to $25,000 of traffic per month, with 700-1000 of traffic daily. Note that these traffic are completely organic, further adding on to the value of these leads, as such leads are purely free, arriving at the site from search engines like Google.
This can only be achieved based on meticulous technical improvements to the website, making the pages highly relevant to customer's search intent.
#3: Setting Yourself Apart – Unique Selling Proposition
Set yourself apart from the competition. You want to be able to appear in front of your prospects with a higher perceived market value, with an aura that differentiates your brand from your other competitors.
To do, when engaging with clients and prospects, position yourself with a unique selling proposition. Highlight a benefit or product that is unique only to your company and brand. The decision, by consumers, to engage your company and brand is mainly emotional.
While it is not an aspect that should be exploited unethically, you can maintain that relationship by building upon it. You need to be selfless in serving your client and providing them with more value than your competitors are capable.
Quality of service often becomes the centre of attention. Your product/service needs to be one that can fully and consistently satisfy your customer's needs. If you can't be the only one that satisfy those needs, then you have to be the first in your marketplace to tell your customers that you can (fulfil those needs).
Advertise what your company does, how your company does it and why your company does it. For example, if you are looking to market your vinyl flooring services, what makes your company so special? What sets you apart from the rest of your competition?
This is why you need a comparative advantage, a unique selling proposition. Comparative advantages may sway from time to time. Some companies lose their comparative advantage to time.
Motorola was successful with its venture into car radios in the past. This business route eventually brought Motorola to build the world's first mobile phone, and the brand dominated the mobile business in the early 2000s, effectively funnelling the market for mobile communication. However, as other brands such as Apple, LG and Samsung started to compete with the then-industry-leader, they managed to introduce features that Motorola could not cater to, such as emails and data management.
Video-rental chain Blockbuster was a household name back then, having survived the world's transition from VHS to DVD, only to lose out to Netflix when the latter started sending videos through the mail. This was the first form of on-demand subscription, which brought Netflix to its current business model of subscription-based video streaming through computers and phones. Netflix managed to introduce a unique value-adding service to its customers, which Blockbuster's retail outlets were unable to keep up with.
While industry leaders capitalising on their comparative advantage is a common example, Bing is a counter-example of how you can still remain competitive with the use of a unique feature. It is no secret that Google leads the world in internet searches and dominates the search engine indsutry. However, even today, nearly half of the United States population reportedly still uses Bing. Why is that?

This can be largely attributed to Bing's ecosystem, which is integrated with Microsoft products and even other software like Alexa and Cortona. Bing's search engine is also catered more towards e-commerce, providing search results directly to the product pages. This makes Bing a more attractive option for PPC ads than Google when it comes to e-commerce platforms.

Even if Bing is not able to overthrow its competitor in the form of Google, it still retains its audience and relevance in the digital world, due to its unique irreplaceable ecosystem.
Every business can be doing the same thing, but with pre-emptive marketing and a unique selling point, you can still leverage your business model to gain you sales and customer's trust.
Detail your business process and include your customers in it. Incorporate an emotional element into your business model and use it to set yourself apart from your business rivals.
#4 Crafting Your Brand – Building Loyalty
Let's say things start going well. Your business is growing, although not booming yet. You get clients from time to time. But you see these clients once, ever, and you no longer have to chance to interact with them.
The sale is done and over with. And you lose the client after that to the sea of competition.
You might ask – how do you stop losing clients?
The answer lies in brand loyalty. But what sparks brand loyalty?
You can build brand loyalty through many different means. Even through SEO.
Companies create brand loyalty thtough a deep understanding of their customer's priorities, needs and wants. What does the customer care for? Why does the customer buy the product/services? Effective brands make it a point to answer those questions and leverage on a strong identity to anchor to those needs.
Loyalty reward programmes are an example of tangible brand loyalty building. You reward customers based on their purchase volume. This entices repeat visits and encourages your customers to return. It puts you in a position to receive recurring sales.
Advertising can also help with building brand loyalty. Nothing inspires loyalty more than a good product/service. If the customer like your product, they will want to return for more. The trick is to make your product valueable enough for that attention.
You can also make an impact in your industry and community by being constantly present. The age-old advice of 'just showing up' works in a company's context too. Consumers like it better when they feel that they know the person behind the brand. Nurture your relationship with your customers.
This forms the basic foundation of brand loyalty.
#5 Partnering Up – Joint Ventures
Partnerships, joint-ventures, endorsements, and testimonials can help you gain authority and popularity.
Joint ventures can help you open doors to a new market or unexplored demographic. With joint ventures, you get to share resources in the partnerships that you build.
You get access to new markets and potentially distribution networks. This could translate to lowered costs due to economies of scale, and increased profits.
You also gain access to new knowledge and resources. Your partner's contacts are now yours, and vice versa. A joint framework allows both parties to mitigate risk by sharing libailities. This makes it easier for companies to grow and expand.
Capitalise on other's underutilised, overlooked or undervalued oppurtunities. Transform assets into revenue sources.
Conclusion
Success does not come overnight.
It comes from a strategy, starting from the formulation of the strategy, to employing the strategy, to sticking with it.
Having a strategy means that you know exactly what the progression steps and actions look like. You get to control them proactively, to drive a systematic and progressive improvement in your pipeline and system.
In a competitive economy, it never pays to play good defence. Like all sports and games, offense is still required. In most cases, it is even favoured and rewarded.
Sharpen your competitive edge by doing things differently, by thinking about things differently.
Optimise and change what is not working.
Innovate and attempt new strategies.
Get Unstuck.